CONE MACHINE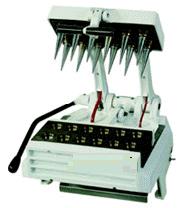 Machine to manufacture any size and shape of ice cream moulded wafer cones, cups, etc.
Top quality and modern technology with automatic temperatures control of upper and lower mould and automatic programmable and baking time control. Mould feedings is effected through a special device: dosimeter and tank.
Heating electric, mould opening and closing is effected by hands levers.
Cones are automatically ejected into a container positioned below the moulds.